Clear Food Buckets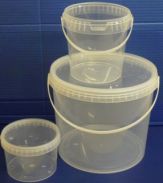 H&O Plastics now manufacture clear plastic food buckets with lids. These containers are manufactured to a high standard from polypropylene, a food grade plastic.
These containers are perfect for all kinds of catering and related uses. The clear plastic means they are ideal as display buckets and as they come with a sealable lid, the food products contained within stay fresh.
An additional benefit of these lids is their tamper evident feature, meaning that the user is reassured that no one has gained entry to the container prior to their receipt of ir.
These high quality food buckets come in a wide range of sizes, all the way from 0.5 litre up to a hefty 10 litres.
And, to paraphrase Henry Ford, you can have them in any colour, as long as it's clear!