Homebrew Bucket
Our homebrew buckets are high quality, food grade containers and come in both 10 litre and 30 litre sizes.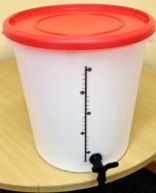 These buckets are ample enough for brewing and fermenting the beer, whilst still allowing for headspace.  The quality of these containers means they are perfect for reusing – just clean and sterilise them and you're ready to go. They should be good for reusing up to 5 times.
Our plastic home brew buckets are strong, being manufactured from high quality polypropylene. They are also supplied with lids and flat bases to make fore easier storage. However, when storing, ensure they are kept away from sharp or abrasive materials such as metal as these can make indentations in the plastic (surface scratches are OK though).
As you would expect from a high quality, fermenting container, they are completely leak-proof, boasting sealable lids.
For more information on the home brewing process and the required equipment, check out our series of brewing articles.
We have a range of homebrew buckets on our retail website.