5 Gardening Uses for Plastic Buckets
April 09, 2014 at 6:08 PM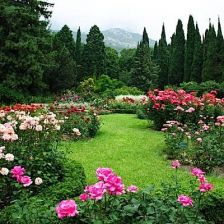 To quote the name of a rather famous 1980s Scottish pop combo, this winter has been wet, wet and yes… wet. The endless rain seemed to dampen the very spirits of the UK, with large areas of the South-West flooded. However, this week has seen unbroken sunshine, the days seem to have visibly grown longer, and we really seem to have turned a climate corner.
We actually barbecued in our garden recently and - as that was March 9th - it dawned on me, as I flipped burgers and turned sausages that we were barbecuing… officially speaking… in winter. Only in the UK. Thoughts can certainly now turn to spring. And - dare we say it - might thoughts also turn to summer? While we were out in the garden we also began to fix up the veg beds, and repair the damage from the winter storms, in preparation for the planting that will now need to be done. And it struck me how useful our range of plastic buckets and containers will now become.
So, here are five uses for the plastic bucket, now we can finally get the back doors open and step back into our gardens, emerging – like Narnia, from the grip of an eternal winter.
1) Utility. Buckets are incredibly versatile. So let's start with a simple one. If you don't want to drag your stepladder around, turn a heavy duty bucket upside down and use it as a portable step, for getting to higher branches for pruning. Also, why not use another bucket – one with a handle – as a container for carrying your various garden tools around with you?
2) Storage. Our H&O range of buckets come in all sorts of sizes, so are perfect for all forms of storage. Smaller buckets might be used to sort out your seeds, and stored in the greenhouse, or perhaps garden shed. Moving up through the sizes, bigger buckets with lids are watertight and can therefore be used for keeping dry fertilizer. At the top of the range larger buckets can contain surprising amounts of weight, and might therefore be used for storing rocks and landscaping material, if you want to really re-shape your garden.
3) Water. It's hard to think of it, but we may well hit a point this summer when we need more rain! If you don't have water butts installed, why not leave our largest, 25-litre container in the garden? Knowing the British weather, you'll soon find it's equally able to collect all the water you'll need to water the garden.
4) In the greenhouse. Buckets are perfect for use in the greenhouse. The smaller buckets in our range can actually be used for planting up. Simply make holes in the bottom, and fill with soil and you have the ideal planting container. You can also use large buckets to create your planting mix. If you mix up a batch, you can store it in buckets that still have their lids.
5) Plants. Two uses here. When de-leafing, throw the cuttings into a bucket and then use that to discard them straight into a compost bin. Alternatively, if you have lost more substantial plant branches in the storms, you can plant up the cuttings in a bucket, and bring them back to life as new plants!
So, no end of uses in the great British garden for the great British bucket! Just make sure you clean out any old buckets if you intend to re-use them. Better still, invest in a new set of buckets from H&O!
Tags: garden tips
Category: plastic buckets
Add Pingback