Christmas office party cocktail buckets
November 25, 2014 at 12:24 PM
The Christmas season approaches, with all the revelry and festive cheer that it is likely to bring. Tra la la la, la la la… ouch… as we welcome 2015 with the first of the year's hangovers.
But it's hard not to get caught up in the gaiety of the season, and the seemingly endless round of office parties by day, and then evening parties at home for families, neighbours and friends.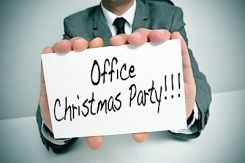 Let's not kid ourselves… alcohol is undoubtedly going to form an important aspect of this celebrating. This is the time of year we hit Tesco's for the sort of liquor we only ever buy at Christmas: Sherry… Baileys… somehow they only ever seem to make sense when there's an open fire, a paper hat slipping slowly down one's head, and the Queen on the telly.
Whether a party in the office or within one's home, the festive season is also the perfect time for cocktails; somehow they seem to make sense at such occasions. And because we're dealing with parties and mass quantities (unless you're a sole trader and your office party consists of you, a park bench and a bag of party poppers) H&O is at hand with a great idea for how to make your party go with a swing:
Use one of our festively coloured plastic buckets to mix up, and then serve up, your home-stewed hooch!
In the golden age of the 1970s people would swig cocktails straight from a bath, so a plastic bucket is an altogether more economic, and reasonable, measure for alcohol dissemination. Choose from a 5-litre bucket for more modest home brews, up to a 25-litre super brew for an altogether more festive, king size beverage worthy of Father Christmas' very own rotund tum and ruddy smile.
Plastic buckets can actually be of great use for such dispensation of booze and good cheer throughout the year: from a garden party Pimms through the summer… through to non-alcoholic apple bobbing at Halloween… through to Christmas cocktails. So why not try mixing pineapple, 7-Up and vodka? Or rum and ginger? Or vodka, white crème de Cacao and Baileys to make a Chocolate Martini? Or Frangelico, Amaretto, Kahlua, Baileys and white rum to make the biggest snowball your office has ever seen? Or even a basic bucket of ale to share? Simply thinking of such recipes makes one's mouth water. In fact, I expect my invitation to your office party by return of post.
Plastic buckets actually stand as fabulously fun and practical containers for such Xmas merriment. You can add straws so that staff can join in the fun all at once… and get a little more up-close-and-personal than perhaps they might throughout the rest of the year. And of course our range of colourful, plastic buckets are also food grade, so that they are designed to hold food and drink much successfully than Susan from Human Resources after one too many Chocolate Martinis.
So, hand your Christmas list to Santa, and then stick this one on your bucket list. All that then remains is to snog the office begonia and then photocopy your posterior on the Xerox in accounts. No-one is ever really sure why this needs to take place at office parties… only that it must do. And then the bucket-crazed revelers of your firm or family can party all their way through Christmas and out through the other side… into the new dawn of 2015.
So… a very Merry Christmas to you all, and mine is a bucket of Sherry-Baileys!
Tags: cocktail buckets christmas
Category: plastic buckets
Add Pingback