Printed Logo Buckets Now Available in Low Quantities
March 12, 2015 at 1:54 PM
Here at H&O we are always trying to drive innovation and find the next big thing. We think our latest product offering stands to be very popular among smaller companies, especially those that are looking to invest in their company's brand identity.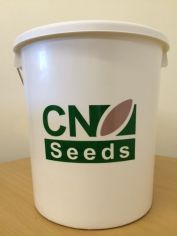 In our 18 years of experience manufacturing plastic containers we have had lots of requests for buckets with logos printed on them. Unfortunately, massive production costs and high initial investment have made printed buckets unviable, especially when ordered in low quantities. 
Even today, you would be hard-pressed to find any plastics manufacturer who would make logo buckets in any quantity below 6,000. But H&O have changed all of that. 
Quantities of 500 brand buckets
New manufacturing methods have allowed us to offer printed logo buckets in extremely low quantities. The new minimum order is just 500 containers and we have already had a lot of interest from companies who are looking to give their brand a boost. 
Printing is available on buckets of all sizes and we can label your bucket with almost anything. Many companies choose simply to print their logo as a way of increasing their reach. But we can also print messages or simple graphics to help you communicate clearly with potential customers.
Build your brand with a printed container 
We have a bespoke range of colours, so finding a palette that matches your company identity will not be a problem. What's more, we can print labels in multiple colours, so can tackle even the most complex of designs.  
All you have to do is get in touch with our team, send the image that you want printed, and we will turn it into a finished product in no time. 
These printed logo buckets appeal to a range of smaller businesses. They are ideal for builders, bakers and charity bucket-shakers. Even wholesalers looking to resell novelty seaside buckets!
Buckets make great merchandise 
Plastic buckets last a long time. You probably have one lurking somewhere at home, or in a dusty garage that you've had for decades. 
Many of our clients have given their printed buckets away at trade shows or exhibitions as an extremely cost effective way of marketing.
Giving your buckets away to targeted potential customers is a great way of getting remembered. These prospective clients will hang on to and re-use your logoed bucket time and again making printed buckets a solid, long-term investment in your brand.  
Best of all, logo buckets cost little more than standard buckets. 
To find out more about price, or to make an order chat to a member of our team by calling 0151 639 0002 
Tags: printed buckets
Category: Plastic container manufacturing
Add Pingback