Introducing our 20 litre bucket with metal clasp
May 30, 2017 at 11:35 AM

The latest product in H&O Plastics' ever-growing range is this our 20 litre container with metal fastening band. Strong and reliable, its the perfect solution for those needing to store or transport liquids with peace of mind.
For 8 years, H&O Plastics have been manufacturing this tough and versatile bucket for supply to an established UK building company. However, due to rising demand and the excellent feedback we have had on the product, we have decided to make it available commercially to all our clients.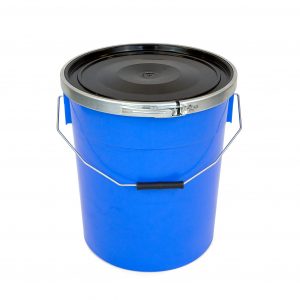 Boasting a full capacity of 22 litres, and available to order in a wide range of colours, the container is perfect for applications that require colour coding, for instance referencing the goods stored within in a warehousing or storage environment.
THE container for transporting liquids
But its key feature is its metal fastener, making it an ideal container for those that need to move about buckets of paint or other chemicals of that ilk. The locking clasp on this high quality 20 litre plastic bucket aids in retaining and securing the lid. Even if its not you doing the transportation, (maybe you're using a courier), the secure lid gives peace of mind to all parties involved as it prevents potentially harmful spillage - not to mention the resulting wastage if the bucket was to topple over during transportation.
In comparison with metal buckets of a similar specification, it is very competitively priced yet possesses equivalent strength. The plastic used in the manufacture of the container is high impact polypropylene whilst the metal locking band is manufactured from galvanised steel. For companies wanting to keep an eye on rising costs, yet do not want to compromise on quality, this big capacity container is the answer.
You can buy will full confidence that these transportation containers will do the job without breakages or spills. The highly durable plastic will not dent or rust in the way that metal containers can, giving them a longer life span at a better price.
As mentioned above, we can supply in a range of colours and ship in pallets of 180. Contact us to find out more details. Alternatively you can buy online immediately on our sister site.
Tags: new products container for storing liquids liquids bucket
Category: plastics news
Add Pingback