Seven steps to create your own Christmas tree stand.
December 09, 2014 at 1:01 PM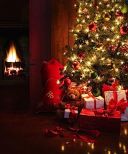 It's here! Christmas is just around the corner and it's time to make a start on the never ending list of preparations, if you haven't already.
It's always the same story at festive season. You've managed to get the biggest turkey possible, but forgotten the nibbles. You've bought plenty of drinks for the adults, but nothing for the kids. You've dragged the tallest tree you can find halfway across town, but once it's through the door you can't for the life of you remember where you put that crackering tree stand.
If this sounds a bit like your Christmas then help is at hand. At H&O we want to make the festive season that little bit easier. And we have the perfect idea for your very own DIY Christmas tree stand using… you guessed it, a bucket!
Whether you're looking for that homemade touch, or a project to keep the family entertained, just follow our easy step by step guide and your tree will be guarding those presents in no time.
steps to a sturdy Christmas tree
Step one: take a tape measure to your tree and make sure you have a bucket that'll hold it in place. If not you can always order one from our diverse range.
Step two: decorate your bucket! As well as sizes, we offer a range of colours to fit your festive mood. Whether you prefer Coca-Cola red or more traditional green, we are always happy to accommodate. You can get those creative juices flowing by decorating your bucket with fabric, tinsel or glitter (if you don't mind the mess).
Step three: make sure your bucket is sturdy. The only thing worse than wobbly relatives at Christmas time is a wobbly tree. Be sure to fill your bucket with plenty of rocks to stop it from falling over, even if Uncle John decides that your tree seems like a good place for a nap.
Step four: if you're using an old bucket, make sure you give it a clean to get rid of any chemical residue that could harm your tree. If you've bought a new bucket from us, then there is no need to worry.
Step five: make sure you saw at least an inch off the bottom of your tree. This will not only keep it healthy and watered, but will help the tree stay stable.
Step six: Fill your bucket with a good few pints of water. And yourself with a good few pints of ale, you are nearly ready to enjoy your tree.
Step seven: and here comes the fun part, decorating the tree. By now your tree should be standing tall – it's time to let loose with the decorations. Whether your household style is carefully measured or wacky and wonderful, nothing brings the family together like decorating a tree. The H&O family likes reams of tacky tinsel and plenty of chocolates!
And there you have it; you can tick the Christmas tree off your list, only another 7,000 things left to do. Let us know when it's all ready and we'll be sure to pop round for sherry and mince pies.
- See more at: http://www.ho-plastics.co.uk/blog/10-steps-for-turning-a-bucket-into-a-christmas-tree-stand/#sthash.Por30plw.dpuf
Tags: christmas home decor
Category: plastic buckets
Add Pingback