A containerful of colours.
April 29, 2013 at 4:12 PM
If we could personify H&O, and render our business in human form, it would be an elegant - if slightly surreal - combination of Bob the Builder and Laurence Llewelyn-Bowen – of hair and helmet.  So yes, we design, mould and manufacture plastics on an industrial scale, for every aspect of industry - from building to catering. Equally (but admittedly lesser known), if you want to know this season's defining design statement, we are also on hand, and the only company to turn to!  And the word is.. bright, signature colours in the home.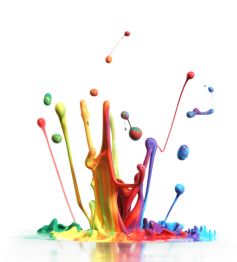 Take the kitchen, for instance.  2013 is all about bold splashes of bright, vibrant colour; about moving things on from the dour, monochrome designs of the past.  And our idea for the perfect, simple and quickest way to achieve that effect is by using painted plastic containers as kitchen storage solutions.
Yes, we hear you say, it all sounds very 'Grand Designs' but we have two immediate questions… one, our plastic containers have been used and two, the containers we do have are not colourful.  OK, dealing with the first, we can advise you on ways to thoroughly clean your containers and make them food-safe, and there is advice on that process elsewhere on our website.  Even better, start again with brand new (and therefore food-safe) containers from our extensive online range of buckets and containers. In terms of colour – no, aside from the lids, our containers are not particularly colourful but that, too, can be easily fixed, and here's how:
Scrub your container clean with an appropriate sponge and let it dry. Then, sand it down vigorously with sandpaper until it feels a little rough, and apply acrylic latex primer with a paintbrush, both inside and outside. Let it dry for two hours, then apply specifically acrylic latex paint (in the appropriately bright colour) with a paintbrush and leave it to dry for another couple of hours. If patches of the original container show through, add further coats.  Et voila!  Place your new, bright colourful plastic container in your kitchen, perhaps stacked with our colourful containers and simply sit back as you impress the Jonses next door with your effortless ability to stay ahead of the design curve.
So whether industry or domestic, commercial or interior design, H&O is equally adept at giving advice on any matter to do with plastic storage, whether it's Bob or Laurence on the phone!
Tags: plastic food containers
Category: plastic food containers
Add Pingback