A 'potted' guide to beer fermentation buckets
February 10, 2014 at 4:48 PM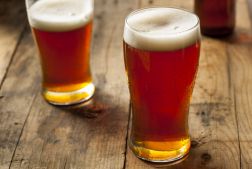 The uses of the plastic bucket are limited only by the parameters of the imagination. However, is there any more laudable pursuit than using the humble plastic bucket in the brewing of beer? Here, we are not talking about prohibition hooch, but rather the massive revival in real ale in the UK, or what they call craft beer in the States. Whether a micro-brewery or home brewer, plastic buckets are an absolute essential.
So what are the do's and don'ts? Well, if you're starting off you need to cast your eye over our selection of larger, food-grade 20-litre containers, buckets large enough to give you the space to brew and ferment the beer, and to allow for headspace. You can them clean, sterilise and re-use the buckets. Recently we have received enquiries as to how many times buckets can, in fact, be re-used, with some customers quoting a maximum of five times. In fact, whilst it's always an idea to replace buckets – and certainly to ensure they're hygienic – it's incredible how resilient these containers actually are, and how successful they can be as plastic fermenters. Take care of them and they will last you a long, long time. Like anything you wear out, if you do feel it's time has passed for fermenting, you can always recycle the buckets on, and re-invent them for a garden or cleaning use.
Of course we understand your concerns when it comes to using our buckets for anything to do with food preparation. And we must stress the need to clean the buckets, and use bleach or something similar to prevent any infection in the materials. Be particularly careful not to gouge the surface of the bucket as such indents can encourage bacteria and make the bucket harder to keep clean. So be careful storing and cleaning your buckets, and keep them away from any metal that might be liable to make indents into the plastic. Surface scratches should, however, be OK and can be more easily cleaned, and the buckets then re-used for further fermentations.
To seal or not to seal your brew
The other issue is the sealable lids that come with these food-grade buckets. If they degrade, they can lose their seal. However this really comes down to your approach to brewing – some home brewers like to open brew, with just a loose lid to keep the dirt and dust away, which enables you to keep a good visual lock on the fermentation process (obviously buckets are not see-through, so you need to you to trust your yeast and your fermentation skills). If you do prefer to brew with sealed lids then replacement lids, or replacement lid seals, can be purchased.
Of course the fun is in sitting back and letting nature take its course. People report using a bucket over 40 times for separate brews, over years of use. And of course, like a fine wine, age brings the aromas of hops and malted barley to your bucket. However, there will no doubt come a time to consign even the most faithful old timer to garden duties, and start again, with a brand new food-grade container.
That's the first time we expect you to give us a call. The second is when the contents are ready to drink…
Tags: brewing beer
Category: tamper evident containers
Add Pingback