Camouflage fishing bait buckets
May 28, 2013 at 5:51 PM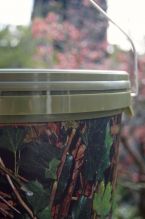 Here at H&O we have uncovered some fantastic uses for plastic buckets and containers over the years - from making drums to trapping wasps; from winter lanterns to individual gardens. Well, we've come up with another belter.
Of course many plastic containers end their lives by being used by fishermen. Bank side, their uses are ubiquitous: from storing your bait to storing your lunch; from keeping caught fish fresh, to keeping fresh beers cold. If you've got a plastic bucket big enough, you can even turn it upside down and sit on it. Add a blanket over the knees and you have everything for the perfect afternoon out by the river.
As we are perennially interested in uses for plastic buckets, and in what becomes of the plastic buckets we ourselves sell, we have now created our own version of the different bait buckets that were on the market for the discerning fisherman. Never mind Paris… and forget New York… it seems that be on trend, on message and generally ahead of the curve when it comes to bankside fashion, the thing to have this season is… a camouflaged bait bucket (shhh.. don't tell Gok Wan… you heard it here first).
The camouflage – usually an English woodland pattern formed of twigs, bracken and leaves - is designed so as not to frighten the fish. Fish can, of course, see what's on the bank from their watery viewpoint and any bold colours will deter them. So the logic holds that keeping yourself and your equipment in neutral colours will help, just as it does to stay still, and quiet. So these camo fishing buckets have no holes in the lid, have handles for easy carrying and the lids and handle will be often be an olive green, whilst the sides of the bucket are covered in this natural camouflage.
Of course we must point out that you will have to supply your own bait. H&O can mould most things… but even we draw the line at mouldy maggots…
Tags: fishing buckets
Category: plastic buckets
Add Pingback