Spotting food pails from non-grade containers.
December 28, 2012 at 11:23 AM
We have written about food pails and  food grade plastic containers previously, especially as it is an area many customers are justifiably concerned with. Caterers - or even domestic brewers of wine and beer - will store foodstuffs for months on end, and will need to feel confident they are using the right containers, without any possibility of leaching between the plastic and the food within.  Whether you are storing food and drinks, or even preparing food in plastic containers, you want to be sure that the plastics you are using are safe and up to standard.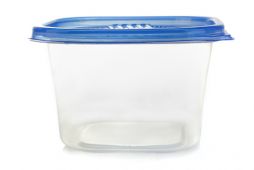 Firstly, what is food grade?  Because of its specialised use - and very much like plastic intended for children's toys - food grade plastic is made to a particularly high standard.  Whether food grade plastic buckets, plastic tubs, or plastic pails, less recycled plastics are used in their manufacture, no harmful dyes are allowed and some chemicals, such as plasticisers, will be kept out of the manufacturing process.  This means there will never be any leakage, and you won't find that plastic-y smell you often find with regular plastic containers.
So how can you tell your plastic container is food grade?  Well, with certain food pails and domestic containers, it's actually rather simple.  All plastics carry a small triangle, with a code number that relates to the kind of plastic it is, for recycling purposes.  Next to that, you'll often see a symbol of a fork, next to a wine glass.  This "fork and glass" symbol denotes that your plastic container has indeed been certified food grade and can be used for food and drink preparation and storage.
 
Of course once you store non-foods in plastic containers - such as paints, plaster etc - you shouldn't re-use that container to store food.  However, if you are looking for food grade pails and containers in the UK, H&O have a wide range of specialised solutions. Using high impact polypropylene, our range includes tamper evident and leak proof food grade plastic containers, to ensure even further peace of mind for your food storage.
Tags: plastic food containers plastic containers
Category: Plastic container manufacturing
Add Pingback