How to make a bucket drum kit
July 13, 2012 at 4:31 PM
Back in March, we told you about a new craze sweeping the UK, imported from America. Bucket drumming, or street drumming. In the article, we told you how to drum using plastic buckets, but not how to put together the drum kit in the first place! So I thought I'd better rectify that.
Street drumming requires you to build a set of drums from used (or new for that matter) upturned buckets and pails, some plastic, some metal, dependent on the sound you want to create. It has its own unique sound and style and even Bryan Adams recently included bucket drumming in his UK gigs.
So how do you actually put together a set of street drums?
1.The kick drum
You need a big, deep plastic bucket to be uses as the bass or kick drum. This supplies the low frequency 'dum dum dum' rhythm that drives a beat. Large, 20 or 30 litre plastic buckets are perfect for this. The larger you go ,the deeper the sound.
2. The snare.
Pick a bucket for the snare drum sound. This is used for the 2nd and 4th beat of a standard 4/4 bar and produces the bright, higher frequency "crack" sound. Small metal pails make good snares.
3. The toms.
You then need some mid-pitched drums to fill in the gaps between the snare drum and the kick drum.. Medium-sized buckets such as 10 litre plastic buckets will do just fine.
4. Cymbals and hi-hats.
It gets a bit trickier now as we try to emulate cymbals and hi-hats. This is the bright, shimmering sound in a drum kit. Hi-hats are used for the continuous 8th- or 16th-note patterns and cymbals for the crash at the beginning of a beat – and end for that matter. Think of the racket rock drummers like to make at the end of some heavy metal anthem. Metal pans and upside down paint cans are great for recreating the bright sound of cymbals.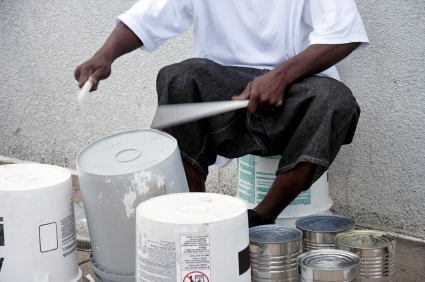 Once you've got your kit, arrange the buckets and pails in an ergonomic (easy to use) layout for playing. Ensure that your bass and snare drums are the most easily accessible and aren't awkward for your arms to reach. You can position the other buckets (cymbals, toms, etc) around the outside of you playing area.
One last thing to bear in mind is whether you'll be able to easily transport the bucket drum kit. If you intend to play them out and about, you need to be able to carry everything together, so try to choose buckets that can sit inside one another.
Tags: plastic buckets, pails, plastic containers street drumming bucket drumming
Category: plastic buckets
Add Pingback