Plastic containers manufacturer's investment stimulates growth
March 15, 2013 at 11:32 AM
Thanks to a steady programme of growth and expansion over the last two years, H&O Plastics are beginning to reap the rewards and further cement their position as one of Britain's foremost plastic containers manufacturers and supplier of standard and tamper evident containers and buckets.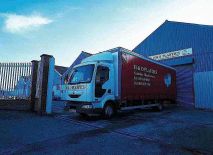 Constantly seeking the next opportunity, investing in new equipment and plant improvements, H&O have managed to grow their market share of contract mouldings for many major bucket and container manufacturers across UK and Europe. As well as keeping one eye on the future, H&O have grown their place in the market offering an excellent service, building up a reputation for fast response times as well as flexibility on colour and quantity, facilitated by their on-site manufacturing capability.?
Established for almost twenty years, H&O Plastics manufacture plastic buckets and containers for a wide variety of uses, such as in food preparation and storage and for industrial use in the chemical and agricultural industries.

H&O MD, Bob Lavender understands that ongoing investment is vital in keeping the company ahead of other plastic bucket manufacturers. Specifically in sourcing and funding the right equipment:
"I undertook a European wide search for a specific machine, namely a 500 tonne Sandretto moulding machine."
With the Sandretto machine, H&O Plastics are aiming for a reduction in plastics manufacturing overheads of about 50%, yet overall productivity is likely to increase by 10%. statistics which Mr Lavender sees as a key part of its strategy going forward.
Bob added "With the efficiencies the new equipment will bring us, we are expecting our market base to expand yet further as we will be in an even stronger position to respond to customer demand."
Bob added, "At H&O Plastics we have over 40 years experience in the packaging industry, we provide excellent advice and innovative solutions, and our proven track record is built on the foundations of a well established quality control process, with ISO 9001:2008 in constant operation. This, combined with our policy of ongoing investment in R&D ensures we can continue to respond to our customers ever evolving demands."



Tags: Plastic container manufacturing
Category: Plastic container manufacturing
Add Pingback