Plastic Containers with tamper evident lids
March 17, 2014 at 5:44 PM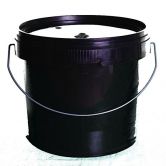 There are two basic purposes to a plastic container or bucket, and we will not need the combined minds of Stephen Hawking and Professor Brain Cox to crack this particular conundrum. As well as containing something, there will also be a need, logically -  sure as day follows night - for access to those contents.  But wait… because it's not actually as simple as that, so here comes the caveat: yes, sometimes you will need access to the contents, but perhaps you don't want other people to have the same access.  Perhaps the materials are sensitive, perhaps you are at an important stage in the brewing process… perhaps you simply don't want Pixieland UK disturbed by outside forces. 
As a for instance, take the pharmaceutical industry.  Within this industry it is obviously very important that the patients taking their medicine can feel assured their drugs are safe, and have in no way been compromised.  After a famous scare in the States, featuring deliberately poisoned painkillers, the pharmaceutical industry needed to be able to assure their customers there is no possibility of their drugs being tampered with; that they have been both safely manufactured and transported securely.
This is where tamper evident containers have come into their own.  And as you'll see from our retail website, we have a fabulous range, in various sizes and colour options.  Each is designed in high impact polypropylene - a food grade material – which means the containers can therefore be used with food storage and transportation, as well as with chemicals… and of course that homegrown hooch.  The containers can also be stacked when filled, and also feature a protective skirt around the top of the container, which stops stacked containers rubbing against one another, and possibly dislodging the lids. 
So… H&O tamper evident containers are incredibly practical, durable and work perfectly for the safe storage and transportation of goods for a range of industries, from the food industry to the chemical.  However, now you have successfully graduated cum lauder from the University of H&O, we will leave you with one important distinction – that between tamper "proof" and tamper "evident"… because they do mean different things.
Tamper evident means that it will be immediately apparent if someone's tried to open your container. Tamper proof, meanwhile, ?means that it's actually physically impossible to get into the container.  The only way in is to go at it with a screwdriver or knife.
The peace of mind is therefore there, in that you will be able to check to see if someone's been at your hooch.  Or interfering with your pixies...
Tags: tamper evident containers food grade buckets
Category: tamper evident containers
Add Pingback