Strong plastic buckets - construction and uses
September 13, 2013 at 3:00 PM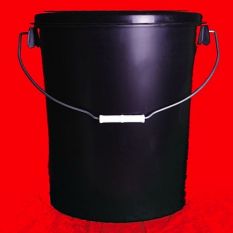 As you will see from H&O's wide range of plastic (and metal) containers, we have the size, capacity and materials for every occasion.  Over the years we have offered a multifarious range of suggestions for their use, from brewing to busking.  However, there are times when you need to bring out the big guns… when only the very strongest buckets will suit your needs.  So, at the top end of our range, we present our industrial, heavy-duty plastic containers. 
These 25-litre beasts serve a variety of uses, both domestic and industrial.  In terms of the domestic sphere, these strong, plastic buckets are constructed from high impact polypropylene - a food grade material, and leak-proof – and they are therefore perfect for household chores, food preparation and storage (if, like me, you happen to have a menagerie of children and animals under your roof).  In addition, because of the tough durable materials of their construction, they are equally useful in domestic DIY and their flat base makes them ideal for mixing - for instance plastic, Artex and fillers.  Bottom line… they are much less likely to be kicked over by a clumsy child.
Whether it's holding water to clean the car or more permanent storage needs, heavy-duty buckets could well be the right choice.  In addition, their clip-on lids also help when storing materials, for instance out in a garage where, because of this durability, they will never leak.   In terms of transportation rather than storage, as they come with a sturdy, metal handle and comfort grip, they are also perfect for moving materials around the house.  Equally, out in the garden they are therefore ideal for moving soil, or perhaps sand handling and heavy loading. 
         In an industrial context, these buckets are just the thing for building and construction; the ultimate container for moving materials around the site or factory, and for floor-based mixing.   So, whether for storage, or for moving materials around the home, garden or factory, everyone should have a heavy-duty bucket in their collection – the ultimate all-purpose storage container.  And as they often come in a variety of colours, why not keep a selection - colour-coded - dependent on their use?
Tags: heavy duty buckets strong buckets
Category: plastic buckets
Add Pingback