Summer Thai style cocktail buckets - food grade of course
July 26, 2013 at 10:17 AM
Please indulge me as I recount a personal memory.  I was just 20 when I touched down in Bangkok, ahead of a two-month trek around South East Asia.  It had been a long overnight flight from the UK and when I stepped off the plane I walked straight into the midday Thai heat.  The afternoon was spent out in the sun, looking for somewhere to stay; without much luck, until I stumbled upon Koh San Road, the backpacker's mecca made famous by the book 'The Beach'.  I found a place to stay, dropped my bags, relocated to the bar area and ordered a well-deserved beer.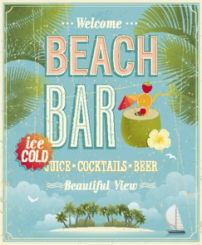 The man at the next table overheard me talking to the waiter and asked where I had come from. Turned out we were both from Manchester, so we pulled tables together and ordered another couple of beers. Then we moved on to a brand of Thai whisky called Mekong. Tradition holds that you order a quart bottle, a big 2-litre bottle of coke and a bucket of ice, then sit back at your table, mix your drinks and watch the tuk tuks carry the chaos of downtown Bangkok past your very eye.  It was a long, long night. Let's just say one night in Bangkok truly makes a hard man humble.
All very Michael Palin, you quite justifiably think, but what does this have to do with buckets?  Phucket, maybe, but not bucket. Well, it seems in the subsequent years the tradition has not only continued, but evolved.  For word reaches us at H&O of a most ingenious use for the plastic bucket - although it must be a food grade. A concept known as the "Thai bucket".  If you'd like to replicate it, here's what you do… take one of our standard, food grade, two and a half litre buckets and (remembering to remove the lid, which always helps) fill with a decent amount of ice. Then (and here's the fun bit) add a bottle of Thai whisky (Maekong or Sangsom, it doesn't matter), a can of coke and a can of Red Bull.  Et voila… an instant cocktail.  And here's the lifesaver… you add several straws so that people are able to share, rather than hogging the whole thing for you (a Thai bucket to yourself might result in a personal reconstruction of the film 'The Hangover 2'.
If we can construct cocktails of dubious parentage in plastic tubs for garden parties here in the UK, and use the bath for storing drinks at parties… surely it's allowable to use the humble bucket for such partying logistics?  And why stop there… why not be even more inventive?  Try mixing pineapple, 7-Up and vodka.  Or even a cold beer sharer.  O,r if there's a good few of you, next level the whole experience to one of our 5-litre buckets, for a super jumbo king size beverage!
Of course some new arrivals in Thailand don't know quite how to take the concept of using a bucket for drinking, rather than making sandcastles.  Equally, they might be unaware of the alcoholic, or energy content of the heady cocktail within, causing what are known as "bucket colds".  But on balance (a rare thing to achieve in Bangkok), mostly it only adds to the general revelry of a night out in Bangkok, or the Thai islands - bucket-crazed revelers partying long into the night.
So, "trying a Thai bucket"… stick that on your bucket list!  We're not sure it's going to be quite the same experience with four pints of Speckled Hen on a beach in Barrow-in-Furness… but you never know.  Perhaps best to have one extra empty bucket, just in case… to keep by your bed during the night….and that one needn't be food grade.
Tags: cocktail buckets
Category: plastic food containers
Add Pingback