Vuvuzelas and Caxirolas - when plastic moulding turns bad.
May 08, 2013 at 11:22 AM
At H&O we pride ourselves on being able to mould and manufacture pretty much anything out of plastic. Whether it's contract moulding for manufacturers or a more modest order for tamper proof plastic buckets and containers, we are confident in our ability to manage it all.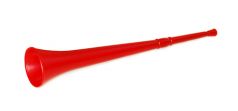 Plastic buckets are of course our business and we remain committed to this fabulous material, the material that single handedly changed the 20th Century. But we have to draw the line somewhere… and accept that to cross it… is a step too far. And that line in the sand was South Africa, 2010. The football World Cup. Ring any bells? Or rather, drone like a swarm of asthmatic bees? Ah yes, the vuvuzela - that cheap, simple piece of moulded plastic that allowed football fans to collectively make the most annoying noise since Joe Pasquale last stepped upon a stage.
Well we have some good news… and then we have some bad. Firstly, there's another World Cup coming up next year, in the spiritual soul of football – Brazil - and the vuvuzela will not be making its incessant, nagging appearance. So far, so good. However wait, because unfortunately there is bad news right behind the good - in the moulded, recycled plastic shape of the caxirola – designated instrument of the 2014 World Cup. And this could be even worse.
The caxirola is essentially a pair of maracas, which can be shaken and also knocked together to make a noise, and perhaps suck the collective will to live in opposing fans. The caxirola comes in Brazil's national colours of yellow and green and, perhaps worse of all, was actually sanctioned by Brazil's Ministry of Sport and FIFA (although the involvement of the latter is more understandable - a pair of brightly coloured maracas could arguably do a better job of running that organisation).
It's sure to be a feast of football next summer but you have been warned… the competition might come with its own attendant, annoying soundtrack. Even at H&O we have to admit there are some uses of plastic we wish had never been thought up!
Tags: plastic moulding contract moulding
Category: plastic moulding
Add Pingback